You often spend a lot of time and effort in cleaning and care of your natural stone. Regardless of how much ever you clean these surfaces, they tend to get dirty again. Natural stone surfaces include granite, slate, travertine, marble and such others. These stones are highly porous and need to be sealed after deep cleaning to maintain their lustre and hygiene. Here is a detailed guide by pFOkUS educating you all on the problems with natural stone surfaces and the right products for their maintenance.
Problems with Natural Stone Surfaces
Natural stone such as slate, travertine, marble and granite are the most preferred stones, but they are also very porous. Due to this, such surfaces easily allow the passage of moisture into their pores, thereby providing favorable circumstances for mold breeding.
Any dirt or spills on the surface also penetrate deeper inside forming denser stains.
Natural stone surfaces also chip off due to heavy impact.
Some natural stone surfaces such as slate have the tendency to shed dust. This impacts the sheen of the stone after a few years and your interiors are also always covered with dust.
pFOkUS – a leading tile, grout, stone and glass restoration products manufacturing company in the US brings you its remarkable range of residential and commercial restoration products. These include tile and grout cleaner, grout sealer, tile sealer, glass cleaner, glass sealer, shower glass enclosures, maintenance cleaners and a variety of tools. mentioned -below is a detailed guide explaining how to use our restoration products for cleaning and care of your natural stone.
Detailed Guide to Cleaning and Care of Natural Stone
Cleaning Natural Stone:
Natural stone has the tendency to soak up water and spillage.This moisture and dampness inside the pores leads to mold and mildew breeding. You can clean the stains and mold with pFOkUS' Imperia Deep Clean – a deep soaking liquid which penetrates into the pores releasing dirt, stains and mold at the root level. Imperia Deep Clean is a remarkable marble, slate, granite and travertine stone cleaner that does not damage the integrity of the stone.
Sealing the Grout:
Grout is the stone and cement mix which is filled in the void between two tiles. Just like natural stone, grout is porous too. It tends to absorb moisture into its pores leading to mold formation. Even if you clean it thoroughly, you cannot prevent stains and mold formation occurring repeatedly. After deep cleaning, you need to seal your grout using Caponi – a two part pigmented titanium based resin grout sealer which seals the grout and also makes it waterproof. Our Caponi is available in 40 shades which makes it possible to match it with the tile color.
Sealing Natural Stone:
After sealing the grout, you should seal the natural stone surface to prevent re-staining. Regardless of how well you clean the stone, you cannot prevent stains and mold from forming again. Natural stone also gets damaged due to acidic spills from drinks and food. You need to next seal the entire tile surface with our natural stone sealer, Celine – a clear topical resin sealant. Celine creates a hydrophobic surface on the tiles preventing damage due to food and beverage spills, while making it waterproof.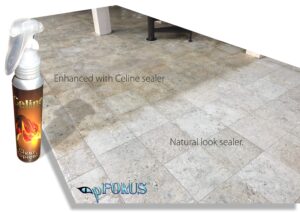 Repairing Cracked Stone and Grout:
Using a travertine, slate, granite or marble tile cleaner and sealer will deliver incomplete results if you do not repair the chips and cracks. This can be done with Sentura – a two part pigmented flexible solvent based epoxy/resin, arranged with a 1200 psi bond. It gives a seamless repair job on the cracks and pits on the tile and grout surface. Sentura ensures durability and smooth and uniform lines and is perfect for cracked tile repair. You can also use Sentura to seal your shower corners instead of using caulk. Caulking is an outdated practice and does not give long-lasting results. Sentura seals your shower corners permanently and does not appear bulky.
Maintaining Natural Stone Tile:
Lastly, for regular maintenance of your natural stone tile, you can use pFOkUS' Imperia Maintenance Cleaner or Valore Maintenance. Both these cleaners can be used for weekly maintenance of superficial dirt and stains, once the surface has been deep-cleaned and sealed. Of the two, Valore Maintenance is more powerful. Valore Maintenance is fortified at a molecular level through ion exchange with infused H2O2, thereby creating a hydrophilic surface tension and making your surface more protected and sanitized.
So now that you have an idea of the right method and products for natural stone cleaning and care, you are just a step away from upgrading your surface's look to the next level.  D'Sapone – one of the leading stone and grout restoration service providers offer the best stone restoration services in the US. They only rely on products manufactured by pFOkUS.